FAQs
Eligibility
Am I eligible for the program?
Roselle House is open to all incoming freshmen, regardless of major, as well as upperclassmen. Anyone with an interest in engagement and connection is encouraged to apply. The life skills gained and the sense of community are beneficial for students of any major, from biology to architecture to business.
Can I apply before I confirm my attendance at the University?
Yes. You may apply for both housing and a living learning program even if you have not yet made a final attendance decision. In fact, you should apply for both as soon after you are admitted as possible. Applying for Housing and an LLP does not obligate you to attend UK.
Housing
Where will I live? If I am accepted to the program, is housing guaranteed?
Beginning Fall 2016, Roselle House will be located in Roselle Hall. Roselle Hall was built in 2005, and is located on North Campus, across the street from the student center site. Roselle has four person suite-style living, with study areas, kitchens, and multi-purpose rooms on each floor. If you are accepted into Roselle House, housing in Roselle is guaranteed.
I have requested a specific roommate. Will my request be honored? Can I room with someone who is not in the program?
Roommate requests will be handled in the same way for Roselle House students as for any other student. You may room with someone not in the program (space permitting), but you should encourage your desired roommate to apply to the program as well. That way you will both get to participate in and reap the benefits of this exciting opportunity!
What does it cost to live in Roselle House?
Students in Roselle House pay the same rates as any other student who would live in Roselle Hall. There are no additional program fees associated with participating in the Roselle House Residential College.
Courses
What courses am I required to take?
All incoming Roselle House students will take a course together. The three-credit hour course is titled
"An Introduction to Collegiate Life"
, and is taught by
Dr. Matthew W. Wilson
, Head of Hall (the faculty director) of Roselle House. This course will fulfill a UK Core requirement in Intellectual Inquiry in the Humanities.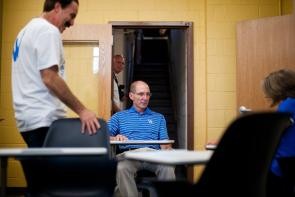 How will participating in the program affect my schedule? Will it take me longer to graduate?
The impact to your schedule will be minimal, and an academic advisor will work closely with you to make sure you are registered for the correct courses. Participating in the program will not extend the amount of time you need to graduate. In fact, with a close community of students and faculty to support you, you will be well on your way to graduating on time. If you have specific concerns about your course load, you should discuss them with your academic advisor.
What are the requirements for program participation?
Roselle House offers a number of extracurricular activities that foster strong relationships between students in the program and between students and faculty members. Students are encouraged to take advantage of as many of these opportunities as possible.